Since I teach mostly young people, college age, and have been an active cyclist with much younger friends for a while now, I have depended on a persistent self-deprecating joke about being old.
Since the end of 2016, a pelvis fracture, a winter of illnesses including the flu for the first time in decades, and then my mom's stroke followed by my father's death have all tempted me to shift that joke to a more serious view of life. However, I am increasingly convinced the problem with the human condition is not aging—which is inevitable and preferred to the alternative—but a lack of compassion and community in the U.S.
While literature and pop culture are awash in portrayals of the challenges that families bring, Kurt Vonnegut spent a great deal of his work as a writer—in speeches, essays, and fiction—arguing passionately for more human kindness as well as the importance of the extended family, an idealizing of tribal life that recognized the horror that is human loneliness.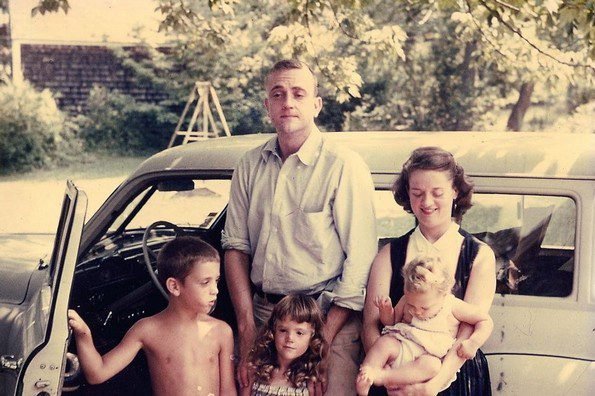 Like most people, Vonnegut himself may have failed some or even often as a spouse, sibling, and father, but that doesn't diminish the power and truth behind his essential message.
I suspect I have compassion for Vonnegut's flaws since I share them along with his ideological commitments to kindness and community—regardless of how inept I can be at both.
And my curmudgeon tendencies are strong, but as I grow older, and as I struggle with the necessary deteriorations of aging, I am more and more apt to recognize the futility of lamenting aging, of fearing and regretting old age (whatever that may be).
I remain frustrated with aging, and my vanity is triggered more than I like to admit. But I am more convinced than ever that the real fear is a lack of communiy as I continue to struggle with how to provide for my mom the sort of late life she deserves despite the consequences of her stoke (which took a significant part of her humanity) and the barriers we are encountering because, to be blunt, she has very little money to sustain her—and the typically horrible insurance that most working-class and poor people are saddled with (if they have any at all) in the godforsaken U.S.
Many times I have lamented that in the U.S. we simply do not care about children, and about that I am both deeply saddened and convinced. But that callousness and carelessness is a subset of a much larger and damning part of the so-called American character: we simply do not care about any vulnerable populations: children, disabled people, carers, and the elderly.
The great and caustic residue of being a rugged-individual culture is that we are willfully choosing to reject community in favor of Social Darwinism, consumerism, and the all-mighty dollar.
Instead of social safety nets being a foundational commitment among us, we have chosen to cast everyone to the fate of the Invisible Hand, our claims to being a Christian nature reduced to so-much hokum in practice.
The cost of growing old is in fact not the deterioration of the mind and body, but the consequences of aging being magnified by a people who refuse to provide for vulnerable populations as an unwavering commitment to human dignity.
I will continue to joke with my younger students and friends about being old; it is fun and often a way to assert my humanity into an environment that I recognize will eventually discard me because of age, although my privileges of being male, white, and well-educated will inoculate me for quite some time.
Despite my many, many flaws, my anger about the callousness of the U.S. toward vulnerable populations is not about me, and extends well beyond my sadness at how the world does not really care about my aging and disabled mother.
My anger is reflected in why Maggie Smith's "Good Bones" has resonated so powerfully over the past several months. Smith forces us to admit "[t]he world is at least/ fifty percent terrible, and that's a conservative/ estimate," and she keeps us focused on the vulnerability of children.
My anger is enflamed because I do believe Smith's closing lines: "This place could be beautiful,/ right? You could make this place beautiful."
My anger grows because I doubt we will ever assure that comes to fruition.
To squander vulnerable populations—from children to the elderly—is to abandon our souls, to spit in the face of beauty, to declare our society morally bankrupt.