Access all presentation materials at this LINK.
first spring (Baltimore is burning)
---
(A.02) Teaching Beyond Fear: Inquiry Around Gun Violence in the English Language Classroom
Date: Thursday, November 21, 2019
Time: 9:30 a.m. – 10:45 a.m.
Location: Ballroom II
Beginning with a keynote from YA author Tom Leveen, this roundtable utilizes experiences and expertise from English educators, young adult literature authors, classroom teachers, and mental health professionals in order to consider how secondary English Language Arts can address school gun violence. More specifically, presenters will discuss using young adult literature and writing strategies to guide students as they explore difficult issues, such as violence in schools. 
Roundtable Leader: Paul Thomas: History of Violence: Guns, U.S. Education, and American Exceptionalism
See Also
Let's Not Fail School Safety as We Have School Reform
School Safety and Security: Research and Evidence
---
(B.06) Misreading the Science of Reading
Date: Thursday, November 21, 2019
Time: 11:00 a.m. – 12:15 p.m.
Location: 306
In pursuit of helping all children to become readers, this session by the Elementary Steering Committee will address the misleading narratives that assert that all children acquire reading in the same way, featuring several reading scholars who will discuss the multiple ways the "Science of Reading" is misread and misleading.
Co-presenter: Paul Thomas
See Also
Dear Media, Stop Misrepresenting Reading Instruction, Please
The Big Lie about the "Science of Reading" (Updated)
Checklist: Media Coverage of the "Science of Reading"
---
(D.03) Ethical Dimensions of Teaching Digital Literacy
Date: Thursday, November 21, 2019
Time: 2:30 p.m. – 3:45 p.m.
Location: Ballroom IV
How do we teach students to be responsible, ethical citizens in a digital world? From reading and writing online to social interactions, teachers have responsibilities in teaching the ethical dimensions of digital literacy. This session will provide practical applications across grade levels.
Roundtable Leader: Paul Thomas: The Ethical Dilemma of Satire in an Era of Fake News and the Brave New World of Social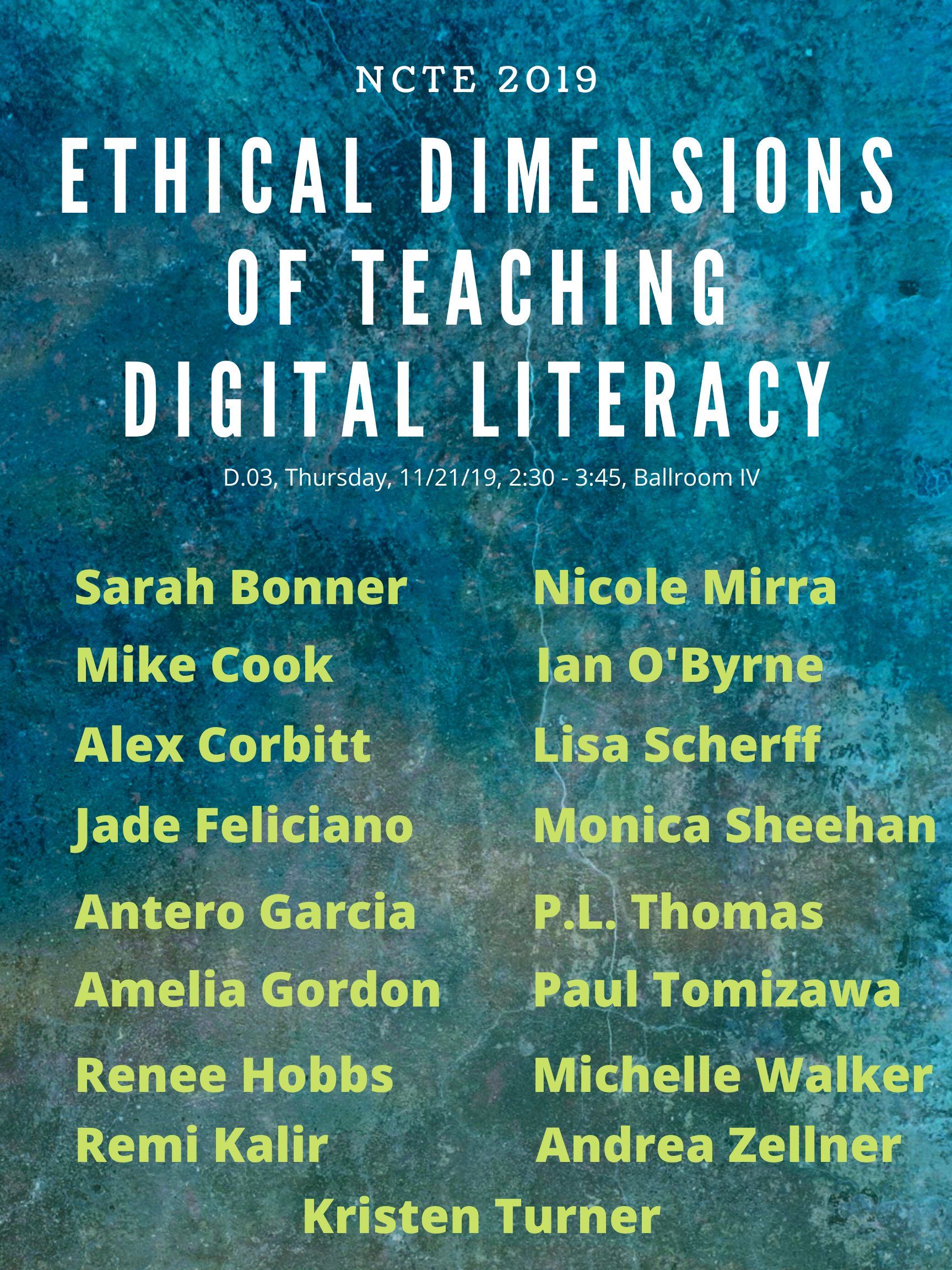 See Also
The Ethics of Digital Literacy: Developing Knowledge and Skills Across Grade Levels
---
(E.09) Expanding the Canon: New Voices, New Inquiry, New Ideas
Date: Friday, November 22, 2019
Time: 9:30 a.m. – 10:45 a.m.
Location: 307
At NCTE 2018, Chimamanda Ngozi Adichie confessed that she still reads "dead white men" even as she advocated for expanding the canon. In other words, expanding the canon does not mean erasing authors, but rather incorporating new perspectives, asking new questions, sharing new ideas. This roundtable session explores what it means to expand the canon by making contemporary connections. Participants will select among 13 tables, each offering units grounded in canonical text(s) and exploring critical and contemporary ways to investigate those texts. After brief opening comments, participants will have the opportunity to circulate among 3 of the 13 roundtables.
Roundtable Leader: Paul Thomas: Haruki Murakami and The Great Gatsby
See Also
Re-reading Faulkner in Trumplandia: "[H]is ferocious conviction in the rightness of his own actions"
The "Vast Carelessness" of White America
Cormac McCarthy's Mostly White, Male Mythology: Rethinking the Canon
---
(F.02) Critical Media Literacy in English Education
Date: Friday, November 22, 2019
Time: 11:00 a.m. – 12:15 p.m.
Location: Ballroom IV
The roundtable session on critical media literacy in English education focuses on the ways in which English educators advocate with others for critical media literacy. Linking to the conference theme, several roundtable presenters inquire into our conception and practices of critical media literacies, including the ways of consuming, producing and distributing critical media literacies in an age of post-truth politics.
Opening Comments: Paul Thomas: What Is Teaching English?
See Also
On Pedagogy and Expertise: Enduring False Dichotomies in Education
The Right Remains Wrong about Teaching, Learning, and Critical Thinking
Teacher Preparation and the Kafkan Nightmare of Accreditation
---
(G.02) L. Ramon Veal Research Seminar
Date: Friday, November 22, 2019
Time: 12:30 p.m. – 1:45 p.m.
Location: Ballroom IV
The L. Ramon Veal Research Seminar is an ELATE-sponsored session that supports graduate students and teacher researchers engaged in educational research through directed discussion with senior scholars in ELA teacher education.
Respondent: Paul Thomas
---
(H.01) The Intersection of Literacy, Sport, Culture, and Society
Date: Friday, November 22, 2019
Time: 2:00 p.m. – 3:15 p.m.
Location: Ballroom II
This roundtable session invites attendees to explore contemporary literacies and diverse teaching practices by using sports content and an examination of sports culture to create learning environments that empower students to think critically about issues impacting the world around them.
Roundtable Leader: Paul Thomas: Race, Athleticism, and Intelligence in Media Narratives of Athletes
See Also
Racism not Below the Surface in U.S., Still
Richard Sherman's GPA and "Thug" Label: The Codes that Blind
The Politics of Wealth and Power
The NFL and the Politics of Lies
Kaeptain America?: On Respectability Politics
---
(M.43) Nurturing an Inquisitive Spirit and Fostering Our Public Selves Through Social Media
Date: Saturday, November 23, 2019
Time: 2:45 p.m. – 4:00 p.m.
Location: 346
Teaching necessitates attending to the learning and growth of other people, but how, as teachers, can we nurture our own creative and intellectual development? In this interactive session, attendees will dialogue with educators who, through bogging, podcasting, and tweeting, are using social media to foster their public selves.
Co-presenter: Sean Connors
Co-presenter: Paul Thomas
Co-presenter: John Warner
See Also
---