The 2019 version of March Madness has provided two powerful and different images of the passionate coach.
First came the brief controversy over Michigan State's Tom Izzo, captured in this frame: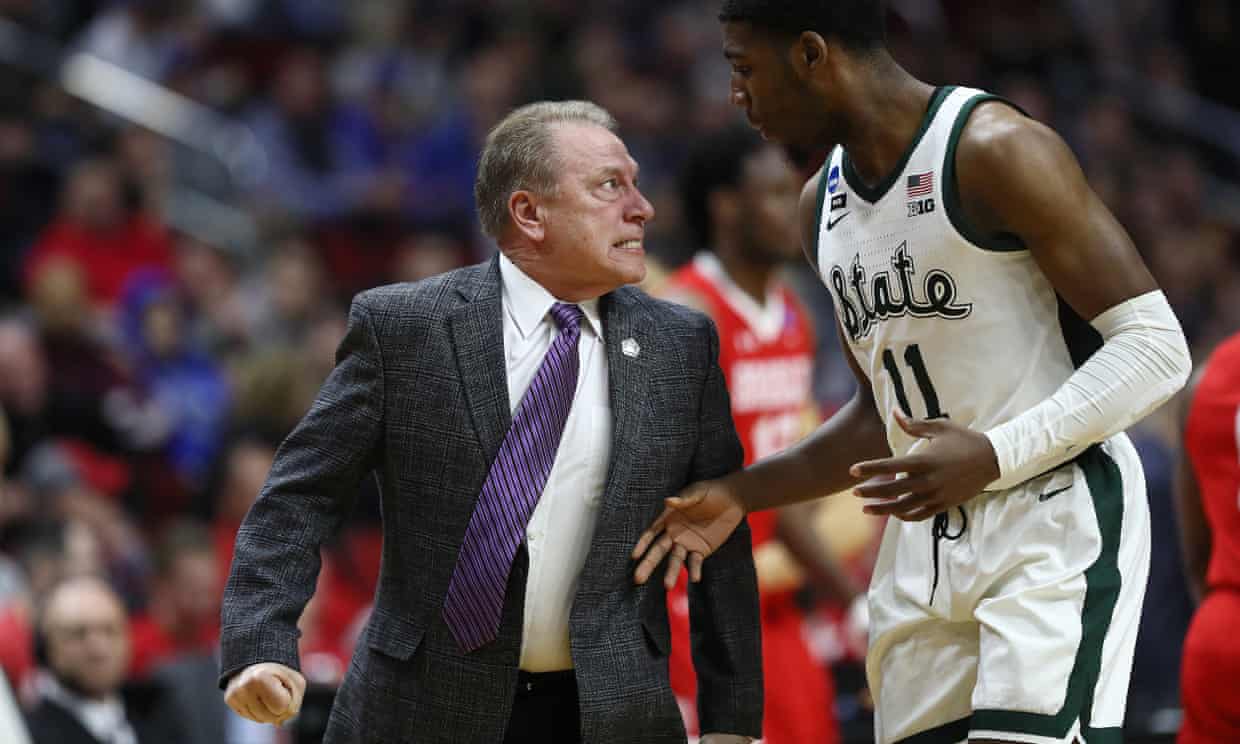 Next, despite the typically less well covered women's game, Muffet McGraw, who coached Notre Dame to the National Championship game, falling a point short, offered an impassioned plea for coaching equity:
Muffet McGraw: A voice for women.

A voice for women in sports. #WFinalFour | @ndwbb pic.twitter.com/sxsQE3Mt4i

— NCAA WBB (@ncaawbb) April 4, 2019
When I posted McGraw's video on social media, the connection between these two moments was highlighted by one of the responses on Facebook: "Just hire the best candidate."
That plea for something like meritocracy in the face of McGraw's argument for equity has been repeated often during my time in higher education as I have worked on committees seeking ways to increase diversity and equity among our faculty.
"Just hire the best candidate" is a refrain, in fact, among white men in all sorts of professions. The implication is that what is past, is past, and if we value equity, then we must practice a sort of color- or gender-blind policy now in order, well, to just hire the best candidate.
"The best candidate" response, however, is a dodge because it is overly simplistic and it exposes the lack of self-awareness among white men.
White male privilege is not a thing of the past, as exemplified by Izzo and a large percentage of coaches who are allowed nearly any fault—as long as they win. Izzo is no outlier; the abusive coach, the coach who loses his temper while also admonishing his players to perform with control is the marker for the mediocre white man who glides along on his privilege while also believing he has earned everything he has attained, while believing that he is "the best candidate."
Etan Thomas explains about the inequity of the coach/player dynamic, captured in stark relief by the tenure of Bobby Knight:
Luke [Recker] and Jason [Collier] had each played two seasons at Indiana University under the legendary but volatile coach Bobby Knight before transferring out to different schools. They spent for two straight hours telling stories about Knight. I was completely shocked by what I heard. The level of torment they both endured: the public and private humiliations, the degrading outbursts, the verbal abuse, the physical abuse, the cursing, the yelling, the screaming, the insults, the attempt to completely break them down and – most of all – the outpour of support their former coach received from all of the adults who worshipped at his throne. Basketball is a religion in Indiana and Knight, who coached the Hoosiers to three national championships, was the pope.
The comparison at the end shouldn't be ignored since the long and ugly history of abuse of power in the Catholic church and its terrifying consequences for children remain a scar that almost no one seems motivated to heal.
So when McGraw asserts that she will no longer hire men as assistant coaches, that 99%-100% of women's sports should have women coaches, she is confronting by saying aloud the unspoken reality of white male privilege: Men coaches of men's sports do not consider women for assistant coaching positions, but never have to utter those words because there is a veneer of coaching hires being about "the best candidate" with the assumption that can only be men.
In all fields where there is gender or race inequity, the solution of "just hire the best candidate" is inadequate because it doesn't seek ways to investigate that "best."
Years of experience and success in a field or the education/credentialing needed to enter a field are often aspects of "best," and those have been gained through, in part or whole, the privilege of white men at the expense of women and people of color.
Coaching, for example, is a real-world example of the "good ol' boys club," those coaching trees widely hailed and acknowledged in fact.
How can anyone find fault (and keep a straight face) with McGraw's argument for women creating their own version of the "good ol' girls club"?
Ultimately, calls for hiring "the best candidate" is a diversion and a lie perpetuated by those who have for most of history benefitted from unfair advantages while being allowed to pretend that they have succeeded on merit.
Coaching is one of the most glaring examples of how white male privilege elevates the mediocre white man—the hard-nosed point guard who becomes a Division I head coach and then is allowed on a daily basis to yell at and berate young and mostly black men who themselves have no recourse for that abuse.
Those same coaches all go on and on about building character in their players, about the whole athletics scheme being mostly about preparing young people for life after sports.
Part of McGraw's message confronted the need for role models:
"How are these young women looking up and seeing someone that looks like them, preparing them for the future? We don't have enough female role models. We don't have enough visible women leaders. We don't have enough women in power."
If we really value merit, and character, I want to ask that for anyone regardless of gender or race, who should we emulate, Izzo or McGraw? Whose message and passion resonate in ways that should guide young people, or any one of us?
The best candidate? McGraw because she offers the voice of real merit and a genuine understanding of inequity.